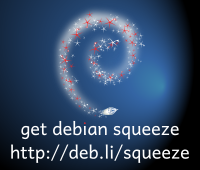 Hi again Folks!
During the last months the Team of Security and Developers of Debian proyect have been working in a Squeezy the next release of Debian Stable,in the maintime in around the world is doing a parties today 5 and 6 of february ,for these today i share the next links ,there you will found all information about the party and your town
here
,also  is starting  a party line in the account of Identi.ca/debian  .The Debian Party Line is a distributed release celebration. Using 
mumble
we can all voice chat together, on a virtual 
party line
.
Some Details :
who
Debian users and developers.
when
February 5th and 6th.
We will follow the events leading up to the release of Squeeze. Developers who have a view into the process are invited to provide play-by-play commentary. And then we will ring in the new release.
Schedule
February 5th


1:00 GMT - party line officially opens, but this may be a quiet time (check if your sound setup works, etc)


14:00-23:59 GMT - Joey plans to be on the party line during much of this time period, to welcome guests and provide play-by-play of the release process.


February 6th


14:00 GMT - Joey resumes play-by-play if release hasn't happened yet


23:59 GMT - party line probably closes


where
Everywhere there's bandwidth. Mumble needs 10-40 kbit/s outgoing bandwidth, and the same amount incoming for each user who's talking. We hope any reasonable broadband connection will do.
The mumble server is 
mumble.debian.net
. It is located in the UK.
how
See 
instructions for using mumble
.
In Colombia :